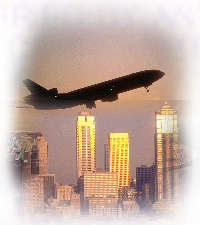 Discover the confidence that comes from having a clearer picture of your freight forwarding options. Below are the A,B,C's of the industry. One solution is right for you.



Airfreight
Is time of the essence? Is your cargo precious, extremely fragile or very small? Is it unusually cumbersome?

If you answered yes to any of the above, then airfreight is for you. The advantages of shipping by air are many: the package is lighter and economical, the cargo is handled
more gently, there is no humidity or moisture and there are far fewer runarounds.



Oceanfreight
If your cargo is of irregular proportions, if it is dangerous to ship by air, if you want to reduce packaging costs by using closed containers, or if you need to ship large quantities in refrigeration, then look to oceanfreight for the solution.

Shipping by sea significantly reduces costs due to less expensive packaging, cost-efficient volume shipping and lower price per weight.